The Story of CHAPLIN, BÉNÉDICTE & Co.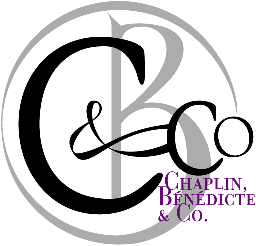 The firm was founded by Lyn Chaplin and Fabien Bénédicte Suant in 1999. From the early days, CHAPLIN, BÉNÉDICTE & Co embraced the challenges and opportunities of globalisation.
The majority of clients came from all over the EU, to be guided on UK and international structuring and on offshore tax planning. Long before the drama of the HSBC leak or the Panama papers, CHAPLIN, BÉNÉDICTE & Co experience in offshore law helped advise against the misuse of 'shell companies' in international optimisation and advocated for clever but tax compliant schemes.
The rise of the internet brought us many entrepreneurs with amazing ideas and know-how and we contributed to the success of many of them.
All this experience accumulated over the years forged a unique style to our boutique firm. We enjoy being on the side of entrepreneurs, we love technology and we take pride in offering an expertise and a level of service rarely seen in bigger firms.
We write our story every day with our clients, so whatever is your question or your need, give us a ring because for us, the future is you.